Sometimes you have tried everything. From clicker training, to professional dog trainers, nothing will keep your dog from biting and nipping. It may be time to try the muzzle. A muzzle, either a wire basket or a fabric strap, will keep your dog from opening his mouth all the way, and could be your only way of curbing your dog's biting habit. Used properly, it can be a great training tool. Used improperly, a dog owner with little patience may turn to a muzzle because they can't be bothered to train their dog well.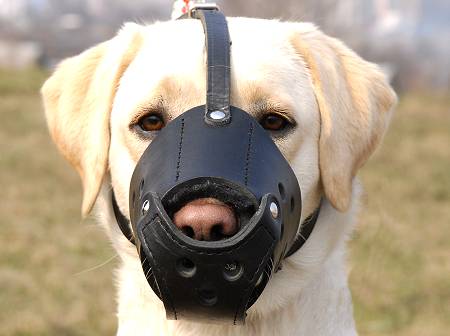 Photo: dog-muzzle-store.com
Dog training is a necessary part of dog ownership, and one that is often neglected, at least in part, by dog owners. Training can be arduous, and it can take weeks for a dog to learn not to behave in a certain way or how to do a certain task, and many owners, especially those with busy lives and full time jobs, will leave the training until too late, or sometimes lose patience.
Nipping is a natural dog behavior and, as such, you can expect a new dog to nip. Because it is a natural behavior, it does not necessarily mean that it is a welcome one. A dog can be trained not to nip or bite.
First let's take a look at where their instinct of nipping and biting comes from.
While there are canines of many species, from coyotes, wolves to dingos and dogs, all canines have certain traits in common. When thinking about this large family of canines in relation to your dog, it is important to realize that the domestic dog has only one direct ancestor, the gray wolf. Over the years, these "gray wolves" have slowly been bred for various tasks, be it the speed and agility of hunting, the powerful nose of a tracking dog, the strength of a fighting or guard dog, or simply for the soft and cuddly pleasure of companionship.
Wolves have a pack structure that relies on dominance, and while dogs have been bred to be submissive, to look at you as boss and leader, this innate need for hierarchy and leadership remains. Because the wolf pack structure is so essential in the wild, wolves constantly test each other to make sure the leaders of the pack truly should be the leaders. This is done by play.
Wolves, dogs, and every canine in between, love to play. Take a trip to the dog park and watch dogs wrestle and chase one another. Many dog owners fear that their dogs are fighting when they wrestle around or put their mouths on each other's necks, but it is most often done in play. Nevertheless, this play has undertones of dominance. In the wild, while having a great time together, two wolves would be testing each other while they play-fought, trying to ascertain whether or not the other animal was stronger.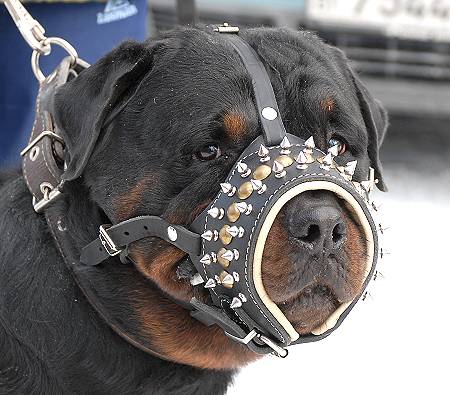 Photo: fordogtrainers.com
Dogs do the same thing. When a dog is wrestled onto its back or flops over in front of another, it is in a submissive position, meaning that the other dog is the "top dog". Since this is how dogs are used to playing, inevitably, your dog will play with you in this way. While this is a great way to bond with your dog, the nipping behavior can worry your neighbors and worse, call the police on you.
Training a dog not to nip should be a simple task. It is vital for you to understand that if you do not want your dog to nip, you should not encourage it. The commonly accepted way to train this out is to yelp loudly as if you are in pain when a dog puts its mouth on you even for a second. Reward him when he removes his mouth.
If your dog is very persistent, a muzzle may be an effective way to curb the behavior. You should not use a muzzle as a form of punishment. Make sure your dog is comfortable around the muzzle first. Lay it out and allow him to sniff it, and get used to it. Later, try touching it on your dogs face. Finally, put it on your dog and remove it soon after, slowly working the amount of time it is on your dog's snout up until he is comfortable wearing it for an extended period of time.
Bear in mind that a muzzle can restrict your dog's ability to eat, drink water, and sometimes to pant properly. You should not muzzle your dog for long period of time.
About the Author
It is common for dogs to get jealous of their owners. They may try to break up a hugging couple or bark for attention when you are not giving them any. To learn more about
canine health care
and
canine dog supplies
, visit us at CanineTouch.com.